The 19th-century townhouse at 75 ½ Bedford Street is nine-and-a-half-feet wide—and even slimmer inside.
The Victorian-era townhouse at 75 ½ Bedford Street in the West Village has the reputation of being the narrowest house in New York (some argue that 39 Saint Marks Place is skinnier, but as the Greenwich Village Preservation Society points out, it's technically part of another building.)  
75 ½ Bedford has changed hands three times in the last 21 years, most recently in 2013, and is now on the market for $4,990,000. Located at the southwest corner of Bedford and Commerce Streets, this thin, three-story structure is just nine-and-a-half-feet wide on its exterior, a maximum of eight-feet-one-inch wide inside, and 35 feet deep. Its 999 square feet hold three bedrooms, two full bathrooms, and a finished basement.
Estimated to be built in 1873, 75 ½ Bedford Street was constructed on top of what was originally a carriage entrance for the Hettie Hendricks-Gomez Estate next door, built in 1799 and considered the oldest house in the neighborhood. The townhouse possesses a Dutch architectural flair with a brick exterior, oversized black, leaded windows, and a stepped gable added in the 1920s.  
The current owner, George Gund IV, bought it for $3.5 million eight years ago, when it had been previously renovated. The bright, all-white walls provide a nice contrast to the light wood flooring, as well as the original exposed ceiling beams, and four wood-burning fireplaces. While these elements—along with a renovated kitchen, ample storage from clever built-ins, two balconies, and a quaint shared backyard—are enough to pique interest from buyers, the key to understanding its physical value is actually spending time in the space. 
"Once you come in, it's very spacious," says broker Hannah Oh, who is listing the property with Nest Seekers International. "People expect it to be very tiny—almost micro-living, but there's more space than you'd think."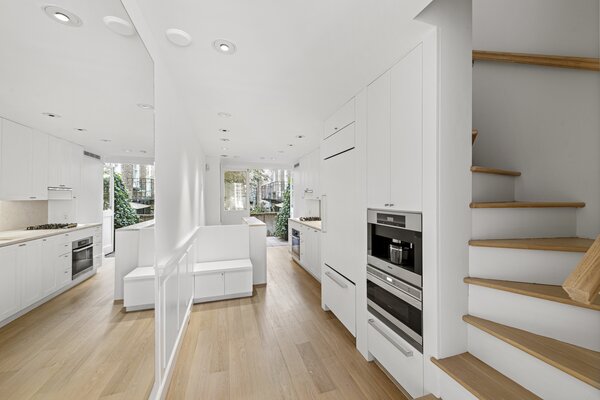 See the full story on Dwell.com: Once Owned by Poet Edna St. Vincent Millay, New York's Narrowest Home Asks $5M
Related stories: