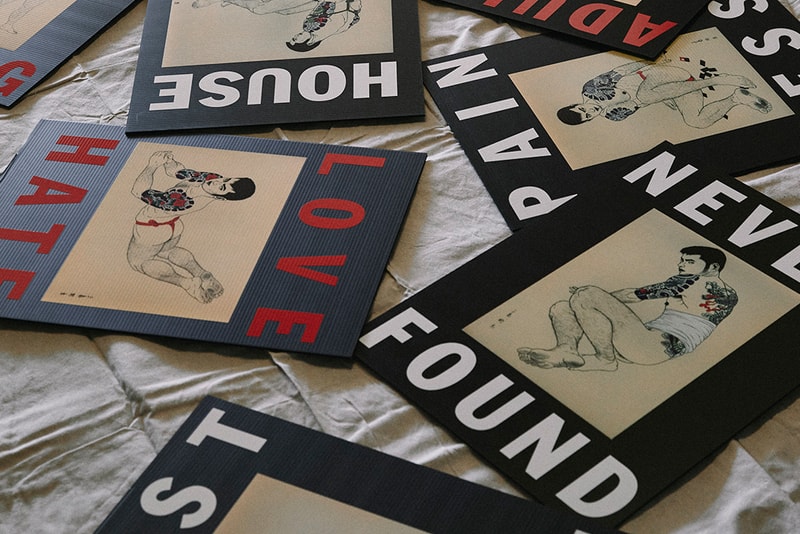 Building on its series of standout collaborative efforts, Tokyo-based retailer GR8 has teamed up with KOMIYAMA YUKA BOOKS for a series of collaborative artworks by Cali Thornhill DeWitt and Go Mishima. The special collection serves as a collision between Cali, a contemporary artist in the modern era, and Go Mishima, a major figure in gay erotic art in Japan during the Showa era. Despite existing in completely different times and places, GR8 describes the fitting union between the artists, "These two artists have lived in completely different places and times. Although they seem to be far apart in existence, when we unfold the works and practices of the two, who are not bound by rules and confront the world from their own perspective and send out messages, we can see some overlaps in their respective directions."
Throughout his works in music, fashion and art, Cali Thornhill DeWitt consistently delivers works centered around contradiction, melancholy and loneliness in society. While Go Mishima in his time fearlessly utilized his experience as a traditional Japanese painter to highlight Japan's often hidden homosexual culture. Mishima's subversive depictions often shoe young men with strong physiques and short hair covered in tattoos and clad in just loincloths. Drawn with dignified gazes, the figures express a poetic emptiness, referencing the isolation experienced by their community.
The Cali Thornhill DeWitt x Go Mishima collection features 15 original artworks that combine Dewitt's representative Plastic Sign Series and Mishima's paintings taken from Go Mishima Art Book – Wakamono (Young Men) published by Daini Shobo in 1972. KOMIYAMA YUKA BOOKS and GR8 were given the opportunity to present Go Mishima's works, which only exist as original art pieces, to a new generation/era by Mr. Bungaku Ito, which they offer their sincerest gratitude to. The inkjet and acrylic on canvas and offset print vinyl stickers on plastic board artworks explore the presence of individuality, loneliness, melancholy, accompanied by an overwhelming power and pressure through an interesting synchronicity between the artist that transcends time and space.
Priced at $800 and $4,500 USD, the printed artwork (18 x 24 inches/11 Pieces, Edition 3) and artwork on canvas (24 x 36 inches/4 Pieces, All Unique) from the Cali Dewitt x Go Mishima collection will be available November 29, 2 p.m. EDT via GR8's website.
 

View this post on Instagram

 
 

View this post on Instagram

 
In case you missed it, celebrate the holidays with Girl's Don't Cry and été's "Santa Claus for Your Beloved One" gift set.
Click here to view full gallery at HYPEBEAST