Kisho Kurokawa Buildings, Japanese Metabolist
Kisho Kurokawa Buildings, Architect, Japanese Tower, Tokyo Buildings, Design Projects
Kisho Kurokawa Architecture Studio
Kisho Kurokawa – Japanese Metabolist Architecture Information + Images
post updated 22 April 2022
Nakagin Capsule Tower Demolition
Nakagin Capsule Tower in Tokyo by Kisho Kurokawa
One of Japan's most distinctive works of contemporary architecture, the Nakagin Capsule Tower in Tokyo, will be demolished this April, according to the building's new owners. The building's architect was Kisho Kurokawa.
The decision ends years of uncertainty surrounding the Metabolist structure, which had fallen into disrepair.
Nakagin Capsule Tower in Tokyo:

photograph : Kakidai, CC BY-SA 4.0 https://creativecommons.org/licenses/by-sa/4.0, via Wikimedia Commons
Completed in 1972, the tower comprises 144 factory-built units arranged around two concrete cores. Each 10-sqm (108-sqft) "capsule" features a porthole-style window, with appliances and furniture built into the structure of each home.
Nakagin Capsule Tower building: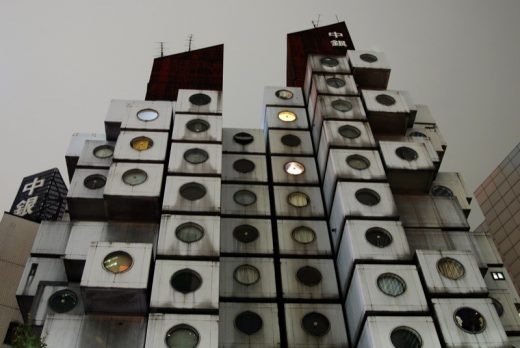 photograph : scarletgreen, CC BY 2.0 https://creativecommons.org/licenses/by/2.0, via Wikimedia Commons
The building is a good example of Metabolism, a radical architectural movement that emerged from the ruins of World War II. As well as embracing technology and mass production, the avant-garde group's members looked to nature for inspiration, with structural components treated like organic cells that could be "plugged" into a larger whole or later replaced. There is a strong theoretical relationship with Archigram, an architectural group that emerged in the UK:
Archigram – Peter Cook, Archigram. Plug-In City, Max Pressure Area, section, 1964: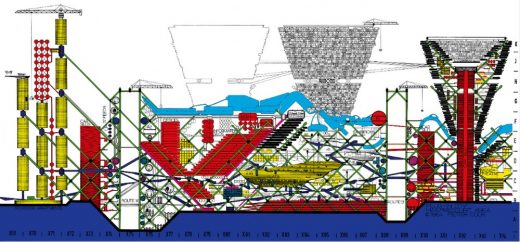 M+, Hong Kong. © ARCHIGRAM ARCHIVES
The building's designer, Japanese architect Kisho Kurokawa, had originally envisaged the Tokyo tower's capsules being replaced every 25 years. But they instead grew dilapidated and outdated, with many of the apartments now sitting empty, used for storage and office space, or rented out to architecture enthusiasts on a short-term basis.
Nakagin Capsule Tower in Ginza, Tokyo, Japan: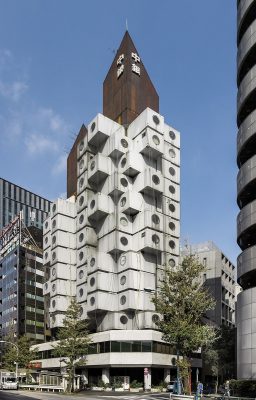 photograph : Kakidai, CC BY-SA 4.0 https://creativecommons.org/licenses/by-sa/4.0, via Wikimedia Commons
In 2007, the owners' association voted to sell the tower to a property developer that intended to demolish and replace it. But the firm filed for bankruptcy during the 2008 recession, and the site's fate was thrown into years-long limbo.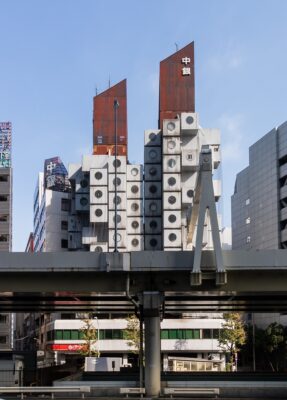 photograph : Kakidai, CC BY-SA 4.0 https://creativecommons.org/licenses/by-sa/4.0, via Wikimedia Commons
Kisho Kurokawa – Key Projects
Kisho Kurokawa – Buildings, chronological:
Nakagin Capsule Tower, Ginza, Tokyo, Japan
Dates built: 1970-72
The Nakagin Capsule Tower is a mixed-use residential and office tower designed by architect Kisho Kurokawa and located in Shimbashi, Tokyo, Japan. Completed in just 30 days in 1972, the building is a rare remaining example of Japanese Metabolism, an architectural movement emblematic of Japan's postwar cultural resurgence.
Sony Tower, Osaka, Japan
Dates built: 1972-76
Tateshina Planetarium, Hiroshima, Japan
Date built: 1976
Japanese Red Cross Society – Headquarters, Tokyo
Dates built: 1975-77
National Museum of Ethnology, Osaka, Japan
Dates built: 1973-77
Saitama Prefectural Museum of Modern Art, Saitama, Japan
Dates built: 1978-82
National Bunraku Theater, Osaka
Dates built: 1979-83
Wacoal Kojimachi Building, Tokyo
Dates built: 1982-84
Nagoya City Art Museum, Nagoya, Japan
Dates built: 1983-87
Japanese-German Center of Berlin, Berlin, Germany
Dates built: 1985-88
Osaka Prefectural Government Offices, Osaka
1988
Hiroshima City Museum of Contemporary Art, Hiroshima
1988-89
Chinese-Japanese Youth Center, Beijing, China
1987-90
Okinawa Prefectural Government Headquarters, Okinawa, Japan
1988-90
The Sporting Club at Illinois Center, Chicago, USA
1987-90
Melbourne Central, Melbourne, Australia
1986-91
Nara City Museum of Photography, Nara, Japan
1989-91
Louvain-La-Neuve Museum, Belgium
1990-92
Pacific Tower, Paris, France
1988-92
Ehime Museum of Science, Ehime, Japan
1991-94
Ishibashi Junior High School, Tochigi, Japan
1992-94
The Museum of Modern Art Wakayama, Wakayama, Japan
1990-94
Hotel Kyocera, Kagoshima, Japan
1991-95
Kibi-cho City Hall / Kibi Dome, Wakayama, Japan
1993-95
Fukui City Museum of Art, Fukui, Japan
1993-96
Fujinomiya Golf Club, Fujinomiya, Shizuoka, Japan
1994-97
Kashima-machi City Hall, Kumamoto, Japan
1995-97
Shiga Kogen Roman Art Museum, Yamanouchi, Japan
1994-97
Kuala Lumpur International Airport, Kuala Lumpur, Malaysia
1992-98
Van Gogh Museum – New Wing, Amsterdam, Netherlands
1990-98
Fukui Prefectural Dinosaur Museum, Katsuyama, Japan
1996-2000
Osaka International Convention Centre, Osaka
1994-2000
Oita Stadium, Oita, Japan
1996-2001
Toyota City Stadium, Toyota City, Japan
1997-2001
Astana International Airport, Astana, Kazakhstan
2000-03
National Gallery in Tokyo, Roppongi, Tokyo
2000-05
Singapore Flyer – observation wheel, Marina Bay, Singapore
2005-08
Kisho Kurokawa Architect & Associates with DP Architects
Astana – Masterplan, Kazakhstan
1998-2004
Kisho Kurokawa: design competition win
Zenit Stadium, St.Petersburg, Russia
2006-09
Maggie's Centre Swansea, Wales, UK
2007-
St Petersburg football stadium, Russia
2007-
More architectural projects by Kisho Kurokawa online soon
Location: 9-5-14 Akasaka, Minato-ku, Tokyo, Japan, eastern Asia
Kisho Kurokawa Further Information
Japanese architect – one of Metabolist Movement founders in 1960
Office of Kisho Kurokawa Architect & Associates established in 1962, Tokyo, Japan.
Born: 8 April 1934, in Kanie, Aichi, Japan
Died: 12 October 2007, aged 73, in Tokyo, Japan
Kisho Kurokawa studied architecture at Kyoto University, graduating with a bachelor's degree in 1957. He then attended University of Tokyo, under the supervision of Kenzo Tange. Kurokawa received a master's degree in 1959.
Kurokawa then went on to study for a doctorate of philosophy, but dropped out in 1964. He was conferred an Honorary Doctorate of Architecture by the Chancellor of Universiti Putra Malaysia (UPM), Malaysia on 7 September 2002.
With colleagues, he co-founded the Metabolist Movement in 1960. Members were known as Metabolists.
It was a radical Japanese avant-garde movement pursuing the merging and recycling of architecture styles within an Asian context. The movement was very successful, peaking when its members received praise for the Takara Cotillion Beautillion at the Osaka World Expo 1970. The group was dismantled shortly thereafter.
Tokyo Architecture
Tokyo Architecture Designs – chronological list
Tokyo Architecture Designs – architectural selection below:
Kasho Gyoen Hotel Accommodation, Minami-ku, Sapporo, Hokkaido, northern Japan
Architects: Hiramoto Design Studio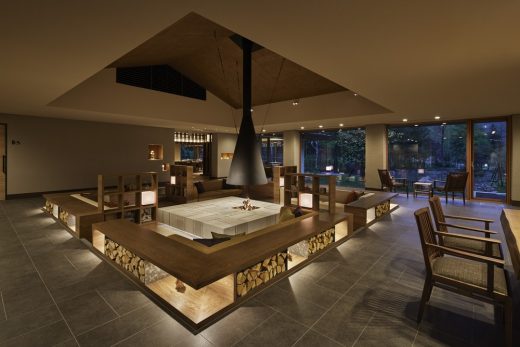 photography: Koji Fujii / Nacása&Partners Inc
Kasho Gyoen Hotel in Hokkaido
The Clearwater Building, Niseko, Hokkaido, Northern Japan
Design: Seshimo Architects + Peter Hahn Associates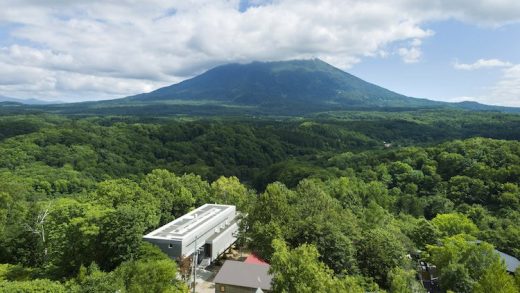 photography : Junji Kojima / 45gPhotography, Aaron Jamieson
The Clearwater Building in Hokkaido
Japanese Architecture
Buildings / photos for the Kisho Kurokawa Buildings page welcome
The post Kisho Kurokawa Buildings, Japanese Metabolist appeared first on e-architect.