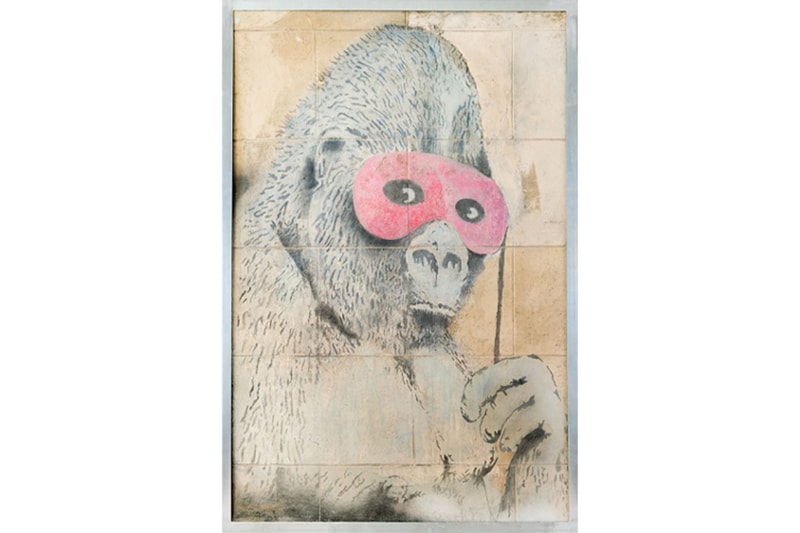 One of Banksy's most prolific pieces is becoming an NFT. The piece, most commonly known as Gorilla in a Pink Mask, was first executed in the artist's hometown of Bristol in 2001 on the wall of the current Jalabad Cultural Centre. However, in 2011 it was painted over before it was removed by Exposed Walls in 2020.
Exposed Walls is a company that specializes in preserving street art. In September 2020, Exposed Walls acquired the piece from the owners of the Muslim center the graffiti was painted on. After purchasing the piece, the company restored it to its present quality and is now fractionalized into 10,000 individual NFT pieces for purchase. Each NFT is expected to cost $750 USD. When all are sold out, one of the lucky owners will be selected at random and awarded with another one-off mural by Banksy titled Refugees (2001).
Each owner of the 10,000 fractionalized pieces will be given a certificate of authentication to showcase their ownership. Gorilla in a Pink Mask is not the only Banksy piece set to be sold as 10,000 separate NFTs. Earlier this month, the artist's Love Is in the Air was also divided into multiple NFTs, giving fans to own a part of the historic work from the artist. All proceeds of the sale will be donated to The Gorilla Organization and Developing Health and Independence charity.
Check out Exposed Walls for more information.
In other art news, Ross+Kramer Gallery presents "Four Walls."
Click here to view full gallery at HYPEBEAST