Gypsum Drywalls – The comfort solution for interior spaces
We spend around 90% of our time indoors, whether at home, work, school, entertainment, or any other place. Therefore, it is critical that the buildings we live or work in, provide us with enough safety and comfort in addition to the services they supply. Building performance indicators are widely used to guide building design and benchmark operational performance. The performance of a building can be measured using a variety of indicators. Some of the indicators considered in the industry include energy efficiency, operational and maintenance costs, environmental impact, acoustics, and safety.
Traditional building performance indicators mostly focus on the energy efficiency perspective. However, there is one metric that is gaining prominence that you should consider: occupant comfort. As occupants are the primary building service recipients in residential and most commercial buildings, their comfort and wellbeing are crucial.
Modern construction technologies have created new possibilities to achieve the desired results.
Employers must consider this an important aspect of building design; numerous research studies indicate that employee comfort has a direct impact on productivity, employee retention, and wellbeing. Occupant surveys prove that building occupants who constantly remain distracted by excessive noise, or unpleasant circumstances such as inadequate lighting, temperature, or air quality become less productive over time. Occupant comfort metrics can validate the functional performance of a space to ensure your building is serving its primary purpose.
In this article, we'll look at how innovative solutions such as Drywalls enhance occupant comfort.
What factors are taken into account when determining occupant comfort in buildings?
Let's take the example of office spaces. The ability of a building design to provide a healthy atmosphere encouraging performance and productivity is referred to as occupant comfort.
Aesthetics, lighting, acoustics, health and wellbeing, thermal comfort, indoor air quality, and visual comfort are a few aspects to consider.
Here is a quick overview of the 2 most important aspects of building sciences:
Building acoustics
Building acoustics play a vital role in people's everyday lives. It is the science of regulating noise in buildings, which includes minimizing noise transmission between spaces and controlling noise levels.
Poor building acoustics or noise distractions can have a negative impact on one's health, well-being, and overall quality of life. When noise is bothersome, it can affect one's comfort and productivity. When a person is exposed to noise for an extended period of time, it can cause physical and/or mental discomfort. Prioritizing building acoustics as a prominent factor in building design can help to alleviate these consequences.
The acoustics of a school building, for example, play a pivotal role in how well teachers project lectures and lessons to a class, determining how students receive the information. Sound and how it reverberates and is transmitted are also significant for individuals in their homes, with top-quality noise-prevention techniques assisting people in controlling noise pollution in their homes, which can be crucial in having a good night's sleep.
According to Ipsos research, office workers waste 86 minutes every day due to distractions. Therefore, the acoustics of a building is critical for employees' energy levels, well-being, and productivity. Due to a large number of people occupying building spaces, the acoustics are extremely significant in commercial buildings such as offices, educational institutions, and hospitals.  In addition, sound has been demonstrated to have a harmful impact on patients recovering in hospitals. Controlling how noises travel across a building can help to create the best possible working and living environments.
A recent whitepaper by Gyproc India highlights the impact of acoustics on occupant comfort and productivity, also highlighting the need for prioritizing acoustics as an important parameter in the design of spaces. The whitepaper showcases some key highlights as below: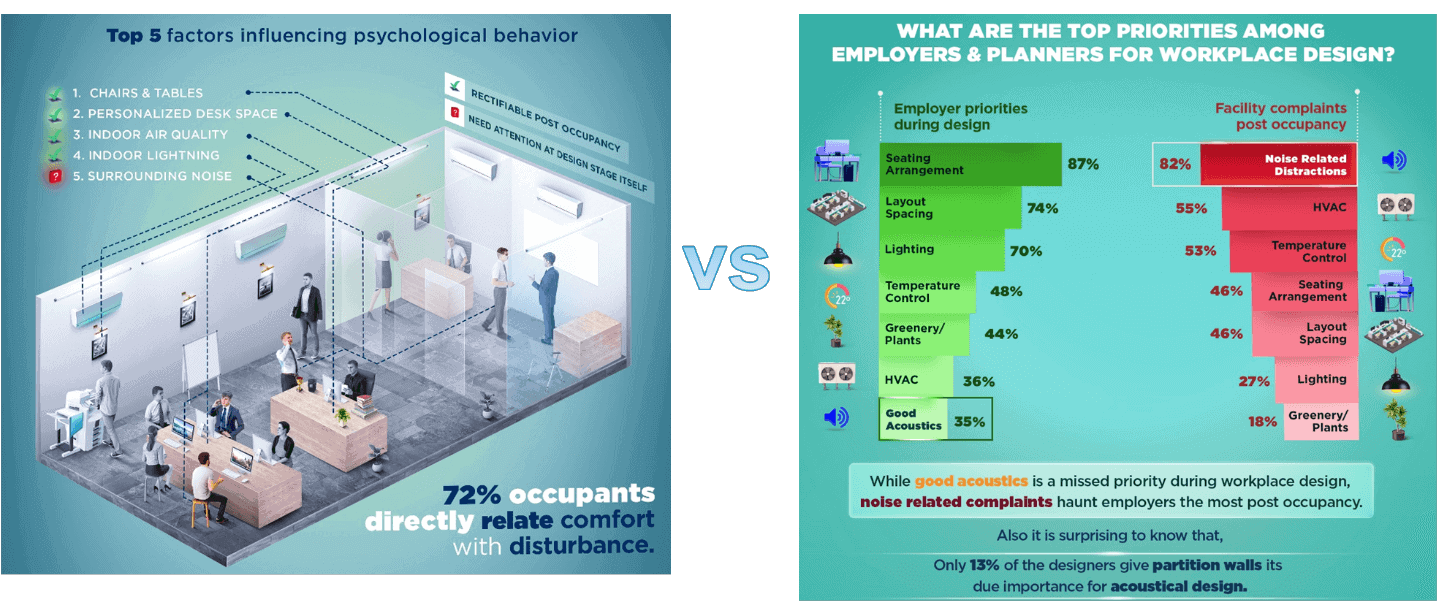 Commenting on building acoustics, Mr. Sudeep Kolte, Vice President – Sales and Marketing at Saint-Gobain India Pvt. Ltd. – Gyproc, said-
"Building acoustics design is achieved by following an "intelligent layout" where noise-producing areas remain separated from noise-sensitive areas. Acoustics design should also ensure sound insulation between rooms and sound absorption of excess sound to improve communication and reduce noise-related distractions. This will in turn help in boosting productivity across employees in the organization and help target a major concern for most employees. Additionally, while we move forward with a hybrid working model it is important to evaluate our office spaces for the best possible benefit for the organization."
How do we ensure good acoustic privacy in building spaces?
This is where the concept of Sound insulation comes into the picture. The word "sound insulation" refers to the reduction of sound that flows between two spaces divided by a partition. The sound energy may pass through the dividing element (direct transmission) or through the surrounding structure (indirect or flanking transmission) during transmission between two spaces. It's crucial to think about both channels of transmission when designing for sound insulation. The principal channels for flanking transmission are the walls or floors that flank the dividing element.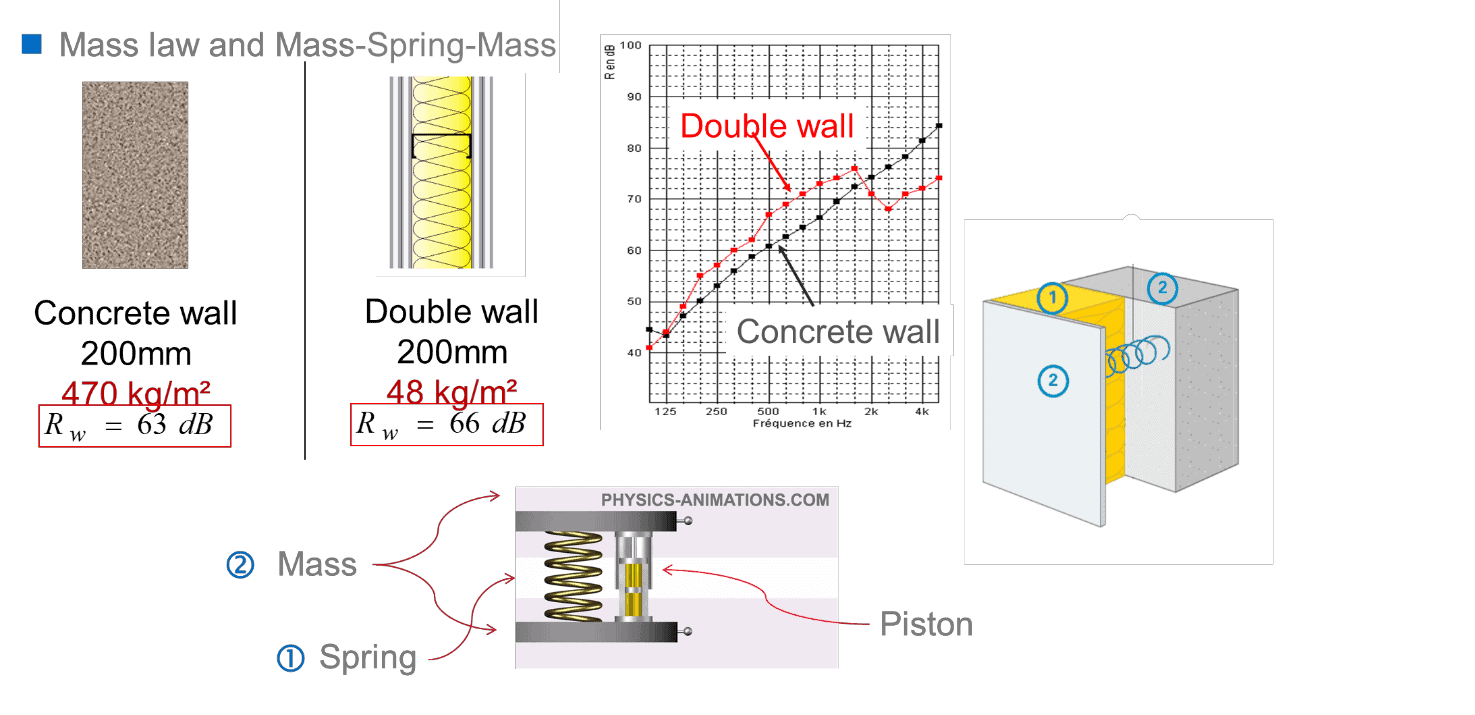 Though heavier mass implies greater sound insulation, for every additional 6 dB of insulation, the mass has to be doubled which is very impractical for large construction projects.
This is where innovative construction technologies such as Drywalls prove to be the apt solution. When it comes to sound insulation, a Gypsum board based Drywall system tremendously outperforms a solid concrete wall. This is due to the fact that the Drywall partition is based on a mass-spring-mass mechanism. The shift in medium (from Gypsum to air/Glass Wool to Gypsum) generates considerable transmission loss as sound passes through partition. As a result, the sound that reaches the other side is substantially weaker.
Drywall adds mass to the surface, making it less likely to vibrate at the same frequency as sound waves and so improving sound wave resistance. However, various factors influence the different sound insulation of walls achieved – Total system thickness, type of Gypsum board used, the density of Gypsum boards, flexibility and bendability, additives inside the Gypsum board, insulation material used in the cavity, air gap, metal framework, joints and finishes, etc.
Find below some of the Drywall systems providing superior acoustic performance:
Fire protection
Another comfort parameter that is of utmost importance in any building design is Fire safety. With the increased construction of high-rise buildings, new smart cities in the planning stages, and the establishment of numerous industrial facilities, fire safety remains a concern due to the rising frequency of fire accidents. Fire safety becomes increasingly vital, necessitating appropriate steps to decrease the risk of fire accidents and damage. Inadequate building and commercial area planning results in severe fire accidents that could have been averted.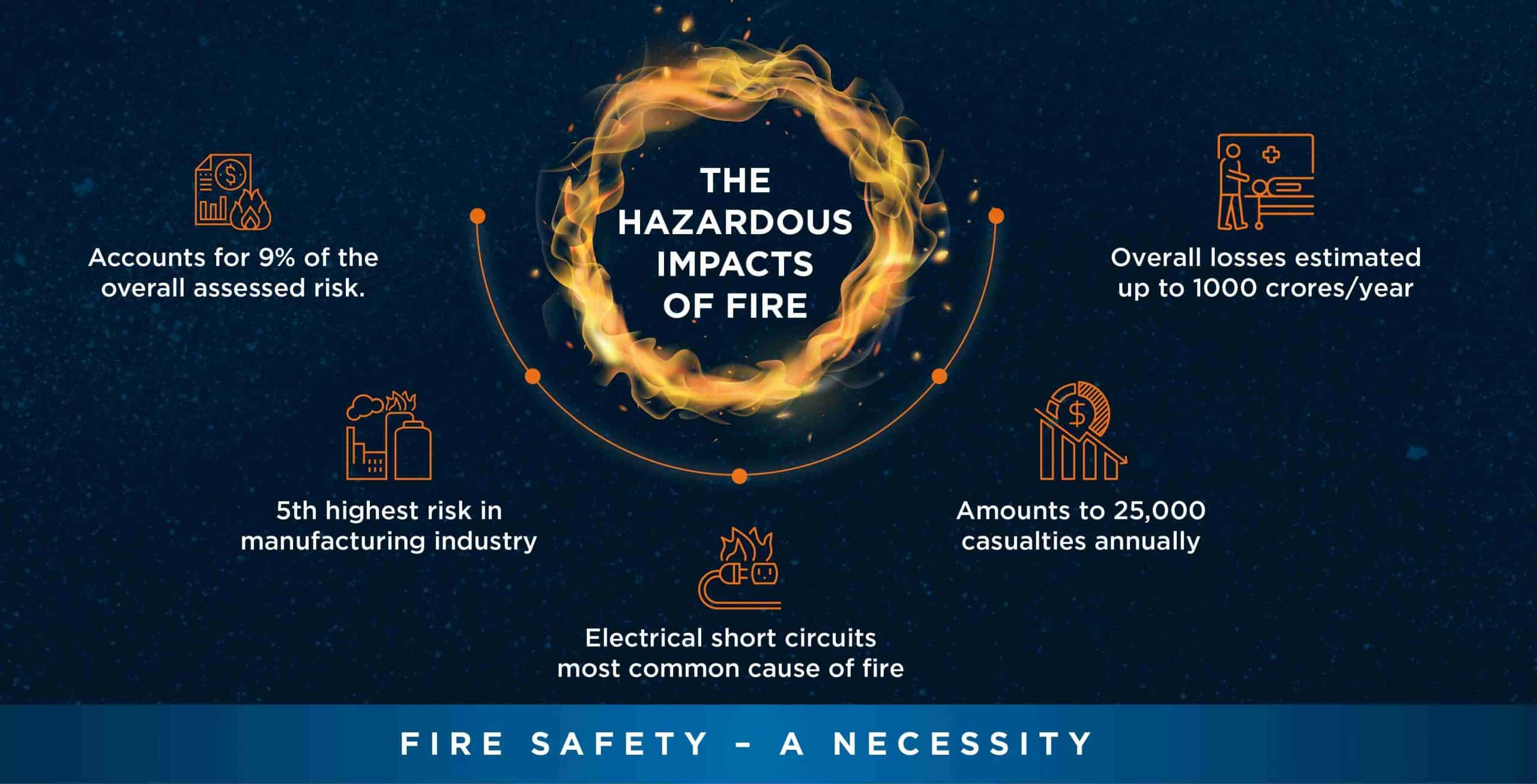 Part 4 of the National building code of India addresses the requirements for fire prevention, life safety in the event of a fire, and building fire protection. The code specifies occupancy-based classifications and fire prevention features that are required to reduce the risk of loss of life and property in the event of a fire. By designing fire-resistant buildings in accordance with necessary safety regulations and relevant standards, fires in buildings, workplaces, and commercial complexes can be prevented, as can the loss of priceless lives, property, and resources.
Why Passive Fire protection is important than ever now?
Normally in buildings, Active Fire Protection measures have a direct influence on controlling the fire. These include smoke alarms, sprinklers, dry risers, automatic opening ventilation, automatic communication to the fire station, etc.
Active fire protection (AFP) requires actively detecting (smoke or fire) and suppressing once a fire has begun, whereas passive fire protection (PFP) slows the spread of fire by using compartmentation such as fire-rated walls, floors, doors, and other structures for firefighting measures to save lives and property.
PFP protects the building and the lives of everyone within the building in the case of a fire by reducing or preventing the fire from spreading internally and externally, protecting the building's stability.
Smart compartmentation with Gypsum based Drywalls
Dividing the building into compartments separated from one another by fire-resistant walls and/or floors limits the spread of fire within the building.
Its rationale is to prevent flames from spreading quickly and trapping building inhabitants, as well as to limit the probability of fires becoming out of control and threatening the occupants, firefighters, and those around.
With this in mind, architects and engineers typically recommend using non-combustible materials when constructing a building because they emit less smoke. Absolute fire safety is impossible to accomplish. Certain steps, like the use of specialized fire-resistant materials in building construction, can assure a respectable degree of fire safety. Employing non-combustible materials, such as Gypsum based Drywalls, increases the structure's integrity.
Gypsum Drywalls – The right solution to limit combustibility
Gypsum board based Drywalls, beam and column encasements are excellent examples of solutions that can reduce fire-related damages to a great extent. For compartmentalization, fire-rated Drywalls are the best choice.
Due to its Gypsum core, Gypsum boards used in Drywalls showcase superior resistance to fire. Gypsum is non-combustible because its crystals contain water. Chemically mixed water makes for nearly 21% of the weight of Gypsum. And this contributes significantly to its potential to operate as a fire-resistant barrier. When exposed to fire, the water in the Gypsum slowly escapes as steam, thereby slowing heat transmission in Gypsum Drywalls.
As per the standards BS 476: Part 7: 1997 Surface spread of flame tests for materials "or" BS 476: Part 7: 1987 Method for the classification of the surface spread of flame of products, based on the rate of spread of flame, surfacing material is considered to be divided into following four classes:
Class1 – Surface of very low flame spread.
Class2 – Surface of low flame spread.
Class3 – Surface of medium flame spread.
Class4 – Surface of rapid flame spread.
Class1 provides the greatest resistance to the surface spread of flame. Gypsum Plasterboards are classified as Class 1. Therefore, by deploying Gypsum based Drywall solutions, we can ensure superior fire rating for up to 4 hours.
Some of the commonly preferred fire-rated systems include the following:
Conclusion
Apart from environmental performance, building design parameters vary greatly depending on the building components. The need for innovative solutions that help increase building efficiency and occupant comfort is what all consultants have in common.
The requirements for conventional building design and construction have changed since the pandemic. As a result, new construction techniques such as Drywalls are becoming more widely accepted.
When it comes to wall construction, a concept like Drywalls fits in perfectly. It is appropriate for today's world construction projects when compared to traditional methods.
Catering and adhering to fire and acoustic performance standards and norms like the National Building code, Drywalls can help achieve higher acoustics and superior fire safety at lesser thickness.
Therefore, due to its efficiency and efficacy in terms of cost, quality, and safety, Drywall systems by brands like Gyproc have become the most popular and preferred solution across sectors.
For more information on Gyproc Drywalls,

Call 1800 103 7897 or write to gyprocindia@saint-gobain.com

Also, for enquiries, click here.

Gyproc, a part of the Saint-Gobain group, is a pioneer in the lightweight interior construction industry in India. So, the product range by Gyproc includes gypsum plasterboard systems for false ceilings and Drywall partitions, acoustical ceiling tiles, and gypsum plastering solutions. Moreover, their solutions offer comfort and sustainability to enhance the well-being of people everywhere.

In addition, the firm manufactures and distributes high-performance building materials, offering creative solutions to the challenges of growth, energy efficiency, and environmental preservation.
*The featured image used in the article is from gyproc.in
The post Gypsum Drywalls – The comfort solution for interior spaces appeared first on Building And Interiors.