Government design tsar urges Gove to reject 'deeply flawed' plans to flatten Oxford Street M&S store
Nicholas Boys Smith says Pilbrow & Partners' proposals "not just a storm in a central London teacup"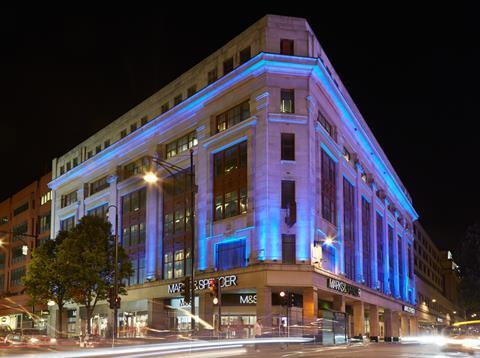 Pilbrow & Partners' plans to demolish and rebuild Marks & Spencer's Oxford Street store were paused last week by housing secretary Michael Gove
The government's housing design tsar has called on Michael Gove to reject Pilbrow & Partners' plans to demolish and rebuild a Marks & Spencer store on Oxford Street and said the row over the scheme goes "right to the heart" of discussions about sustainability.
Nicholas Boys Smith said the case for pulling down the 1930s building was "gossamer thin at best" and called the proposals to build a 10-storey office and retail scheme in its place "deeply flawed".
The comments come a week after campaign group Save Britain's Heritage said the controversy over the project, which has been criticised over embodied carbon concerns, was a matter of "international importance".
Housing secretary Michael Gove ordered Westminster Council to halt the plans earlier this month, just days after they had been approved by London mayor Sadiq Khan.
Gove issued the local authority with an Article 31 holding direction to give the government time to decide whether or not to call in the scheme.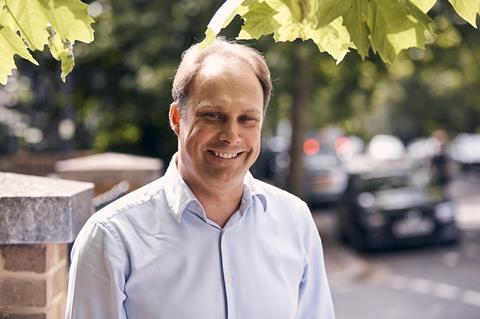 Khan had earlier announced he was sticking with his initial decision to let the development proceed, having agreed to revisit the issue when it emerged the Greater London Authority had failed to consider a scathing report from its own climate adviser on the scheme's carbon impact.
Boys Smith, who chairs the government's Office for Place and is also the founder of think tank Create Streets, said yesterday the furore whipped up by the plans "is very much not a storm in a central London teacup". 
"How we reuse our existing early 20th century and late Victorian department stores, civic architecture and warehouses so as to encourage better, more liveable and more sustainable town centres goes right to the heart of discussions about sustainability, heritage, levelling up and place-making," he said.
Describing the decision to pause the scheme as "good news", he added: "I hope that Michael Gove is able to reject this deeply flawed proposal. 
"It creates no new homes, destroys an elegant and important interwar building, makes Oxford Street less lovable and pointlessly wastes oodles of embodied carbon in the process. 
"The environmental case for pulling down this fine building is gossamer thin at best. We should be adapting the remaining building, not smashing it up."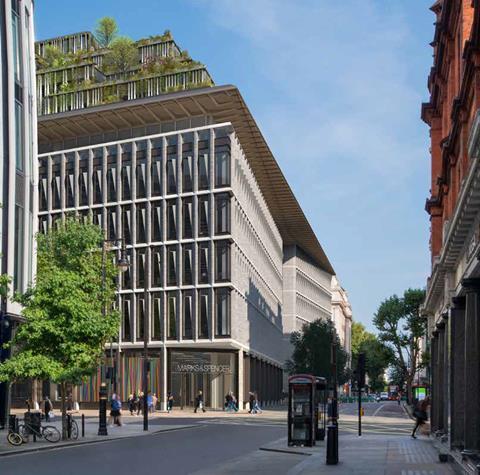 Pilbrow & Partners' plans for the redevelopment of the Marble Arch branch of Marks & Spencer, seen from North Audley Street
Last week, Save Britain's Heritage urged Gove to call in the plans and said that the proposed demolition was "an issue of national and international importance".
The campaign group's director Henrietta Billings said: "If we allow existing buildings to be demolished and replaced without properly prioritising comprehensive retrofit solutions, we will not meet our climate change commitments." 
She added: "The M&S building is a handsome landmark that has characterised Oxford Street for almost 100 years, helping shape one of London's most famous and historic streets. 
"We call on M&S to stick to their ambitious sustainability goals and re-think their plans. 
"The environmental cost of demolition and rebuild of this building just doesn't stack up when measured against a comprehensive retrofit alternative." 
A report by Simon Sturgis, the GLA's carbon advisor, claimed nearly 40,000 tonnes of CO2 would be emitted during construction, on top of the 53,000 tonnes of embodied carbon over the building's 60-year lifespan.
A spokesperson for the Mayor of London said a "thorough assessment" of the scheme, including its carbon footprint, did not yield any grounds for intervention.
An M&S spokesperson said: "The plans we have submitted to build a new, vibrant M&S store fit for modern retail and sustainable office space has been approved at every stage and strongly supported by the local community as a key part of the regeneration of an iconic part of London.
"As well as attracting new investment and footfall, a detailed assessment on the carbon impact across the whole lifecycle of the building was undertaken by independent experts who concluded that the new build offered significant sustainability advantages over a refurbishment."