Affirmation Tower's tapering upside-down appearance 'a symbol of minorities putting down roots'
David Adjaye's plans for a 1,633-foot building in New York could be the first and largest skyscraper in the city by a black architect, if plans are approved.
His designs for Affirmation Tower would also be the first in the city to be owned by majority black and women-led companies, and include the tallest occupiable floor in the Western Hemisphere.
It would affirm "the American dream is accessible to all" and is "emblematic of true equity in development", the team working on the project said.
Developers working on the skyscraper, which is estimated to cost $3.5bn and would incorporate a rooftop entertainment centre, includes a general contractor JV that is 35% women-owned.
If the plans go ahead, Affirmation Tower will be the site of the National Association for the Advancement of Colored People (NAACP) headquarters in New York.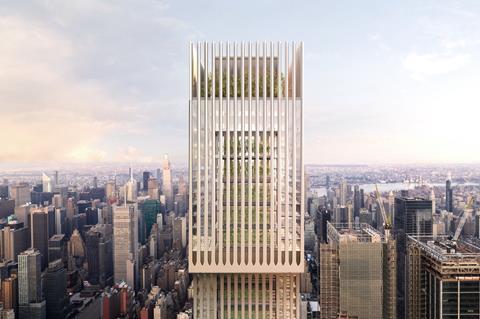 It will be an all-electric building with a total square footage of 1,255,939 sq ft and is expected to create more than 50,500 jobs.
Adjaye, who won the RIBA Royal Gold Medal this year, said the building was shaped like a blossoming tree both because of the site constraints and the symbolism of women and minority groups putting down roots.
The developers also say it will create $3.5bn in new tax revenue over 30 years for New York State and $2bn in new City tax revenue in the same period for New York City.
The 1,776-foot World Trade Centre would continue to be the tallest building in New York City, with Affirmation Tower the second tallest. This was intentional, said the developers, out of respect for One World Trade built as part of the new World Trade Centre after the 9/11 attacks destroyed the Twin Towers in 2001.